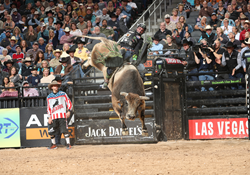 SweetPro's Bruiser 2018 PBR World Champion Bull
Bruiser is an all-time great
LAS VEGAS (PRWEB)December 12, 2018
SweetPro's Bruiser has become only the third bull to ever win three PBR Championships, and just the second in PBR history to do it in consecutive years.
With Jose Vitor Leme riding in Sunday's PBR finals, Bruiser put in another amazing bucking performance to take the top honors. Only former PBR champion bulls Little Yellow Jacket and Bushwacker have been three-time World Champion Bulls before. H.D. Page of D&H Cattle, owners of Bruiser said "He was zoned in and ready to go."
Bruiser surpassed Smooth Operator (45.70) to win the World Championship in Las Vegas and a $100,000 bonus with a World Champion Bull average of 46.08. "He's just a great bull, and hats off to the Page family," said Chad Berger, current Stock Contractor of the Year.
"Many of the top bull owners like Bruiser's D&H Cattle have relied on SweetPro's blocks and loose meal in their competitive bull programs," according to Erick Thornberg of SweetPro Feeds. "Their bulls have achieved strong performances, and a large percentage of the 1800 bucking bulls in the PBR use SweetPro in their feeding regimens. SweetPro supports all classes of cattle from bucking stock to production animals, helping them achieve their genetic potential."
As reported on the Professional Bull Rider's web site, "Bruiser is an all-time great, and if he didn't win it he still would have been an all-time great," PBR Director of Livestock Cody Lambert said. Bruiser is a future Brand of Honor recipient, and joins Little Yellow Jacket as the only bull in PBR history to win three World Championships consecutively.
Bruiser is the second D&H Cattle champion bull to be sponsored by SweetPro Feeds, following the PBR Champion bull SweetPro's Long John. "For us, the PBR is like family and as one of the fastest growing sports in America we are proud to be a part of it all" said Bob Thornberg, president of SweetPro Feeds. "We are extremely proud of Bruiser, H.D. Page and all the hard working folks at D&H Cattle. Being able to participate in their championship season has just been terrific."
Photo credit: Andy Watson, Bull Stock Media.
COMPANY INFORMATION

SweetPro Feeds is a U.S. manufacturer of premium feed supplements for cattle, horses and other livestock, made from Dried Distillers Grains and Condensed Distillers Solubles – CDS. Our patented process in non-molasses, all-weather, free choice blocks uses dried distillers grains that are fermented by yeast. SweetPro products are high in enzymes, multi-class prebiotic fibers, volatile organic acids and our blend additive ProBiotein. These ingredients support overall digestion, feed efficiency, animal health and performance by keeping livestock digestive systems performing the way nature intended.