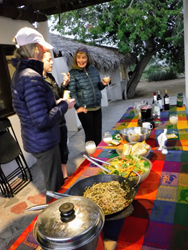 "We welcome guests to our operation in Baja California Sur. in this first season opening to the public" says Rafael Campeseco, General Manager
LA PAZ, Mexico (PRWEB)October 26, 2018
Located in the Sierra Cacachilas Mountains of the Baja Mexico Peninsula, Rancho Cacachilas is happy to announce their brand new 2018-2019 multiday tours. These have been specially tailored for those who are interested in experiencing everything Rancho Cacachilas and the Baja peninsula have to offer.
These eco-adventure getaways brings visitors to the natural beauty of Baja's Cape region, within 45 driving minutes of La Paz, where they can truly disconnect from to-do lists, and reconnect with themselves, loved ones, and the incredible natural world surrounding them. These multi-day tours combine traveler's favorite adventures with culinary delights, natural history and the soothing relaxation of off-the-grid, nature retreats and include lodging, meals, and activities.
Examples of these unique eco-adventures include:
The Desert Oasis Ranch Getaway

This authentic Baja California Sur working ranch adventure getaway offers hiking, mule riding, mining ruins exploration, cheese and wine tasting, and Farm-to-Table meals. Be amazed at the abundant organic produce grown here in the rugged Baja mountains next to the Sea of Cortez.

The Cardon Cactus Hiking & Nature Retreat
Explore the rugged dryland forest of the Sierra Cacachilas on an outstanding network of hiking trails that overlooks the azure Sea of Cortez. Fall in love with the total immersion into nature and being off the grid with only solar powered energy and no WIFI for distraction. Dark nights, amazing stars, natural history, pictographs, 100-year-old Cardon cactus forests and culinary delights await!
Add a Sea of Cortez Package to Your Baja Mountains Ranch Experience
No visit to Baja is complete without experiencing the amazing Sea of Cortez! After a Baja California Sur mountain getaway, add on a Sea of Cortez adventure resort package. The best experience of Baja California Sur combines land and learning adventures in the rugged Baja mountains with marine adventures in the Sea of Cortez!

Day Tour Options at Ranch Cacachilas
At Ranch Cacachilas, their focus is on small groups and personal service. Guides will go the extra mile to ensure that each day is filled with adventure and insights in the wonders of this amazing Baja California Sur mountain eco-system.
Options include hiking, mountain biking, mule riding, culinary and ranch experience. All day tour options include lunch, beverages and shuttle to/from the Rancho Cacachilas Mountain & Bike Hub in El Sargento to the Rancho Cacachilas ranch complex in the mountains.
Additional information and reservations at adventures(at)ranchocacachilas.com or (+52) 612 114 0472. The email address for the Mountain Bike Hub in El Sargento is contact(at)ranchocacachilas.com.
About Rancho Cacachilas

As a responsible steward of its landholdings, Rancho Cacachilas carefully manages and quantifies diverse assets, and develops activities as long-term economic projects.

Rancho Cacachilas' values are deeply rooted in our awareness that what we do potentially affects the lives of many people, as well as our surrounding environment. We intend to leave a legacy that honors and protects the earth while benefiting current and future generations.

Our Values are: Successful Communities, Social and environmental responsibility, Value-Learning, Highest Ethical Standards and Collaboration. Rancho Cacachilas is part of the InnovacionesAlumbra Family which includes these independent companies that operate according to our values and vision for a flourishing Greater La Paz region in Baja California Sur, Mexico – Rancho Cacachilas, Tenaja Holdings, Earth Ocean Farms and Sol Azul.
Press Contact: Nancy Harrison

nharrison(at)adventuremedianews.com

307.421.4473

http://www.ranchocacachilas.com