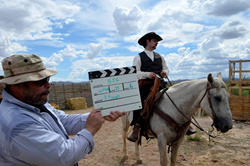 Actor Tony Toste on Horse filming the movie Brothers James: Retribution
"This is going to be an action packed, fun-filled journey across the southwest! Get ready to hear the untold nickle and dime story of Frank and Jesse James!"
RADIUM SPRINGS, N.M. (PRWEB)July 26, 2018
Well known actors Frank Powers, http://www.imdb.me/frankpowers and Tony Toste, http://www.imdb.me/TonyToste, were seen at the Radium Springs Western Back-Lot as Principal Photography for the Feature Film 'Brothers James: Retribution' ended, or as they say in Hollywood, "Its a wrap!".
The film's Star and Executive Producer, Frank Powers, spoke about how he felt about the film, saying, "I am very excited for the world to see this unique take on a traditional western film. I could not be more happy with the product we have from the amazing performance of our cast and crew. This is going to be an action packed, fun-filled journey across the southwest! Get ready to hear the untold nickle and dime story of Frank and Jesse James!"
Actor Tony Toste also spoke about his thoughts working on the western adventure, saying, "It was not only a pleasure, but an honor working with Frank Powers and his wife Michelle. 'Brothers James: Retribution' has been my favorite project I have ever been apart of. The Cast was and is extremely talented and were very kind to me. The crew did not stop working and the passion involved was truly extraordinary. Del La Pour Media essentially built an entire Western Town in the middle of New Mexico, at The Studios at Radium Springs on a Back-Lot. The Set dressings, wardrobe, horses and live fire action stunt scenes were all spectacular!"
Other big names attached to the film are actors Robert Womack, Justin Marmion, Michelle Martinez and Gonzalo Robles. Guest Starring in the movie is six-time World Heavyweight Boxing Champion, David Rodriguez and World Famous Private Investigator Jay J. Armes III.
Stay up to date on Red Carpet Premieres, Theatrical release dates, Behind the Scenes, All the cast and their upcoming projects at http://www.bjrmovie.com
'Del la Pour' media has also produced a found footage, paranormal film, 'Clint Knockey: The Investigation' and a Science Fiction series, 'Shadow Minds'. Both are available on Amazon Prime now. Article by 'Movie News 24/7'