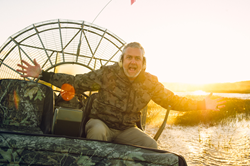 Creator and Host, Chad Crawford
"Many families have told us the show has changed their lives by connecting them to each other and to Florida" – Chad Crawford
LAKE MARY, Fla. (PRWEB)June 01, 2018
Emmy® award-winning television series "how to Do florida" is getting ready to launch its ninth season, which will include its 100th episode. The series will air across the state beginning June 2018.
Creator and host Chad Crawford has been exploring natural Florida and teaching the audience how to do it themselves since 2010. The series has since evolved into a popular family show.
The 100th episode will feature the best family moments from the show's past eight seasons. Though the show has changed slightly from its original execution, the founding mission has not: to show people – both residents and visitors – the REAL Florida.
Realizing that many Florida residents are not natives, Chad wants his show to be a "beacon for transients, to help them figure out and navigate Florida."
The third-generation Floridian believes that by encouraging his audience to get out and experience the Florida outdoors, he is helping to create advocates for many issues our state faces, like clean water, public access to outdoor recreation, the preservation of wild areas, and the conservation of natural resources.
Along the nine-season journey, and more than 100 shows when it's completed, Chad says his eyes have been increasingly opened to the wonder of Florida and its amazing people – and he's not done yet.
In season nine, Chad will dive with goliath grouper, explore the Keys, and immerse himself in the gulf-to-table culture of the Emerald Coast, among other adventures.
"We could not do this show in another state. Only one in my opinion," he said. "We are just scratching the surface in Florida. There's plenty left to do."
To learn more about the show, visit howtodoflorida.com