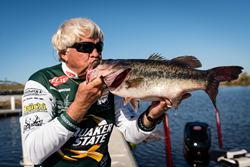 Jimmy Houston
"I am honored that Quaker State and Kentucky Speedway have asked me to be the Grand Marshal for the Quaker State 400 this weekend," said Houston.
SPARTA, Ky. (PRWEB)July 13, 2018
The popular Fishing League Worldwide (FLW) angler and Quaker State® ambassador Jimmy Houston will give the command to start engines Saturday night July 14.
Houston, known to many as "America's Favorite Fisherman," has the extensive outdoor knowledge and colorful personality helped the long-running Jimmy Houston Outdoors (JHO) rank as ESPN's top outdoors show for 20 years.
"I am honored that Quaker State and Kentucky Speedway have asked me to be the Grand Marshal for the Quaker State 400 this weekend," said Houston. "I got to drive the pace car a couple of years ago, so this is another bucket list item I can check off. It is a special honor to me because not only do I have a lot of NASCAR drivers that are friends of mine, but I know that a tremendous amount of NASCAR fans are also fishing fans."
Houston, who is in his 53rd year fishing professional bass tournaments and his 42nd year on National Television with Jimmy Houston Outdoors, began fishing professional bass tournaments in 1968.
Over the years, Houston has had many achievements. He has won two BASS Angler of the Year titles and fished 15 BASS Classics and one FLW Championship. Houston also won year-end Classics with American Angler and Project Sports, plus multiple regular season wins with BASS, AA, and PSI.
Houston isn't the only person in his family to have had many accomplishments. His wife, Chris, was the first woman ever inducted into the Professional Bass Fishing Hall of Fame, winning seven Angler of the Year titles, Three Classics, multiple tournaments, and over 25 boats along the way!
The 2018 season at Kentucky Speedway begins in July with the return of a NASCAR tripleheader weekend anchored by the Monster Energy NASCAR Cup Series Quaker State 400 on Saturday, July 14. The Camping World Truck Series Buckle Up in Your Truck 225 starts the weekend on Thursday, July 12 and the Xfinity Series Alsco 300 is Friday, July 13.
Tickets, Fan Zone passes and campsites are on sale at http://www.kentuckyspeedway.com, by calling (859) 578-2300 or visiting our speedway ticket offices at 1 Speedway Dr., Sparta, KY., 41086, just off Interstate 71 Exit 57 and Ky. Hwy. 35 N.
About Fishing League Worldwide

FLW is the world's largest tournament-fishing organization, providing anglers of all skill levels the opportunity to compete for millions in prize money in 2017 across five tournament circuits. Headquartered in Benton, Kentucky, with offices in Minneapolis, FLW conducts more than 235 bass-fishing tournaments annually across the United States and sanctions tournaments in Canada, China, Mexico and South Korea. FLW tournament fishing can be seen on the Emmy-nominated "FLW" television show, broadcast to more than 564 million households worldwide, while FLW Bass Fishing magazine delivers cutting-edge tips from top pros. For more information visit FLWFishing.com and follow FLW on Facebook, Twitter, Instagram, YouTube, and Periscope: @FLWFishing.
About Quaker State®

Quaker State® motor oil has a 100-year history as a leader in consumer automotive products and vehicle care. Quaker State is among the industry's most innovative motor oil brands and offers a full line of products to meet vehicle engine needs. Quaker State is one of the first brands to develop high mileage engine motor oil. For more information about the full line of Quaker State products, visit http://www.quakerstate.com.