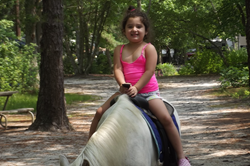 TOMS RIVER, N.J. (PRWEB)June 28, 2018
Guests at Surf & Stream Campground are in for a treat during the RV park's Fourth of July celebrations beginning June 29th through July 4th. Due to Independence Day occurring mid-week, campground staff are preparing a full weekend of activities a few days early this year, giving more campers the opportunity to attend. Read below for the complete Fourth of July weekend schedule.
On Friday evening, guests can relax at the campground's weekly Drive-In Movie Night and Adult Swim Night at 8:00 pm. The following morning kicks off with Kid's Crafts at 11:00 am, followed by the Annual Fourth of July Barbecue featuring entertainment from DJ Joe. Hayrides and another Adult Swim Night will also be offered. On Sunday morning, campers are invited to a special Pancake Breakfast at 9:00 am where the fun will continue with a Petting Zoo at 11:30 am, a friendly game of Bingo at 4:00 pm, and DJ Joe will be back at 7:30 pm for the adult's amusement as the young campers are treated to a hayride around the campground. Before heading to the local fireworks shows on Wednesday, July 4th, hang back around the campfire to roast marshmallows and enjoy complimentary red, white and blue sherbet at 8:00 pm before a special movie screening at 9:00 pm.
Also continuing throughout the week will be our 10-Day Kid's Olympics. Beginning Friday, June 22nd to Sunday, July 1st, young campers can participate in a host of friendly-competitions including bocce ball, shuffleboard, horseshoes, ping pong and more!
To view Surf & Stream Campground's full calendar of events, visit their website at http://surfnstream.com/ or Facebook page at https://www.facebook.com/SurfCampground/.
About Surf and Stream Campground

Surf & Stream Campground is a family-friendly RV park located near all of the most popular beaches at the Jersey Shore. The campground includes a full-size swimming pool, picnic area, activities for all ages, weekend events and more. For more information about Surf & Stream Campground, visit their website at http://www.surfnstream.com or call 732.349.8919.